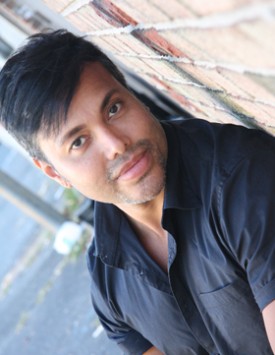 Rolando Cevallos is a top internationally acclaimed hair stylists and owner of Paris Salon in St. James, Long Island.
Rolando began his passion for beauty at an early age.  Little did his family know, Rolando was on a mission to become a person to radiate self-expression and creativity.
Having such a keen interest in beauty, fashion and hair, Rolando decided that he wanted to study fashion, which inevitably led to hair.   In 1993, he graduated from The Fashion Institute of Technology (FIT) in New York City and graduated in 1995 from the Long Island Beauty School in Hauppauge, New York.
In the year 2000, Rolando had an incredible breakthrough.  He was offered a position as a makeup artist with Chanel in New York City.  With great work ethic and ambition on his side, Rolando eventually worked his way up and became Chanel's creative director and regional makeup artist.  From there, Rolando was sent to Paris to learn about their philosophy on makeup and beauty to further enhance his knowledge.
After his journey in Paris, Rolando felt that he had to bring what he had learned about beauty and makeup and their artistic approach to both.  Hair was his next step.  Rolando worked as a top stylist for the late Vidal Sasson, as well as Frederick Fekkai Salon, in New York City.  Several years later, Rolando moved to Long Island where he served as Master Stylist at Bocu Salon in Commack, Long Island.
To date, Rolando has appeared several times in Allure Magazine, Newsday Long Island, Long Island Parenting Magazine, and featured on the Rachel Ray Show.  He has also worked behind the scenes at Mercedes Benz Fashion Week in New York City, prepping and styling various models.
After gaining all of this experience and working on the heads of famous and beautiful people, Rolando decided to venture out on his own.  In 2007, he launched Paris Salon in St. James, Long Island.  Rolando's creative edge has helped him to reinvent hair based on what he has learned over the years.
His passion is about taking hair color and styles to a whole new level, always revolving around the latest fashion trends.
Rolando continues to strive for excellence, which shows through his creations as a Master Stylist.  He and his team believe in the spark of each individual as they strive to enhance each client's inner confidence and outer beauty.  But it does not end there.  His staff is expected to be the very best at what they do so that each and every client walks away with a beautiful experience.  Paris Salon has been a success through motivation, hard work and positive energy.
As much as he has accomplished, Rolando isn't just about business.  He feels a sense of true accomplishment when is donating his services and time to numerous charities in order to help others who are in need.  For Rolando, it's about giving back to the community and helping in his own way.
I do not know where to begin.  I had no idea what Balayage highlights was all about until Rolando introduced them to me. My highlights look stunning but natural.  Friends remark how amazing I look.  I feel beautiful–Janet,01/15/2014

I am a regular here and every time I leave i am so satisfied with my hair cut and color. Rolando is a wonderful hair dresser and person. If you want a short hair cut or your pixie to be maintained, Rolando is the person to see. They are up to date with the latest trends and styles. I have never left there feeling unhappy with my experience there. Everyone there is wonderful, polite and knowledgeable–Tracy, 04/08/2013

From the time I walked into Paris salon until the time I walked out the door, I felt welcomed and comfortable–Ann,05/15/2013

I have been going to Rolando for over ten years, I ve never had a complaint love the cut and color I get alot of compliments on my hair everywhere I go. I have refered other people to Paris and they are very happy with the service.
Thanks Rolando and Staff!!!!–Marcy, 06/23/2013