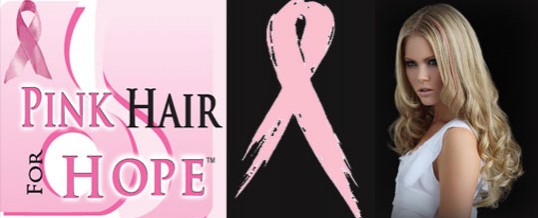 Paris Salon is pleased to announce their participation in the Pink Hair For Hope
Foundation!
For a $10/strand donation, clients can choose from a professionally, bonded pink
hair extension attached to their natural hair, or a clip-in extension they can
put in themselves and re-wear.  The pink symbol of hope brings awareness as well
as financial support to cancer patients and research.
All proceeds from Pink Hair for Hope will be donated to EBeauty Community(TM) –
The Beauty of Giving, a non-profit organization that has created an exchange program
in which wigs are donated at www.EBeauty.com and then offered to women who are undergoing Chemotherapy treatments.
Schedule Your Pink Extension Appointment Today!
You can make a difference!
Hair is an integral part of a woman's life. Wigs are expensive and many women cannot
afford the additional health care bills; let alone a wig.
If you have a wig that you would like to donate, please contact www.EBeauty.com.
Share